For this post, I'm going to do a demonstration of how I list books in bulk using ScanLister.   All examples are from a book sale that I attended in February 2015.  I bought 164 books.
Step One – Sorting – 26 minutes
I briefly look at each book and do a quick inspection.  Then, I put the books into a specific pile according to condition.  Here are the most common condition notes that I use.
1) Very Good Condition – Pages are Clean with no Markings
2) Good Condition – Minimal Signs of Wear
3) Good Condition – Former Library Books with Usual Stickers and Stamps
4) Good Condition – Contains Highlighting and/or Writing
5) Acceptable – Shows Signs of Wear.
Here's a picture of the piles based on condition.  Click the picture to enlarge.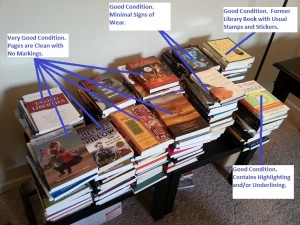 Step Two – Scanning – 14 minutes
After the books are sorted, I scan them into ScanLister.  I go from one pile to the next, so I don't have to keep changing the condition and condition notes on the software.
Step Three – Uploading to Amazon – 6 minutes
After the books are scanned, then I press the "List on Amazon" button on ScanLister and wait for my items to show up on my seller account.  This usually takes around 5-10 minutes depending on the number of items.
Step Four – Convert items to FBA and Print Labels – 7 minutes
After my items show up on my seller account, I then convert them to FBA and create a shipment.  I also print the barcode labels directly on my seller account.   I use the Avery 5160 labels.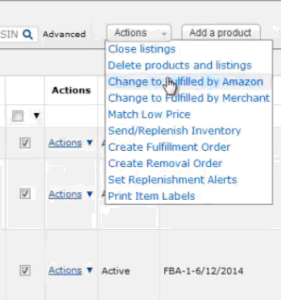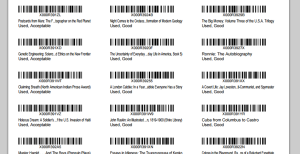 Step Five – Labeling the Books – 22 minutes
All the labels are printed out in the exact order that I scanned the books, so there is no need to "hunt and peck" for each label.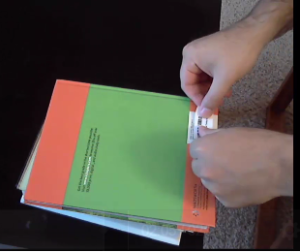 Step Five – Put the Books into a Box and Weigh each Box – 12 minutes
Step Six – Print and Put the Shipping Labels on Boxes – 3 minutes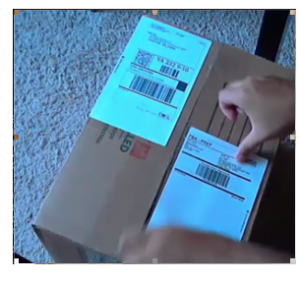 That's how I personally list books in bulk.  The total time spent was 90 minutes.  So that comes to one book for every 33 seconds.  Occasionally, I use the Amazon Labeling Service which would have shaved 22 minutes off the total. That would have increased the rate to one book for every 25 seconds.
I use a repricer that automatically prices my books.  So, by the time the books arrive in the warehouse, all the books will be priced.  I use Repriceit.com.
You can check out ScanLister right here.  There is a free two-week trial for the monthly option.  Use the coupon code "spring break" for a $50 discount on the purchase option.
Disclaimer* I'm the creator of ScanLister.  I had this software made because there seems to be a lack of bulk listing features in the current Amazon listing programs.