Here's a way that I've been getting used books for (almost) free and making a difference in the community. In short, I ask people to donate their books, and in return, a percentage of the profits go to charity.
Here's how it works.
 Put an ad in the local paper offering to pick up unwanted books.
 Answer the phone and make an arrangement with the donor.
 After the pick up, scan all the books and separate the ones that have Amazon value.
 List those books on Amazon will a unique SKU number for tracking purposes.
 After each month, pull a sales report from Amazon, and donate 20% (or whatever percentage you choose) of profits to the charity of your choice.
Here's the process in more detail.
Put an Classified ad in the Local Paper
This is where your creativity will take place.  You will need to market your new business. I've tried Craigslist, expensive business advertisements in papers, and door-hanger advertisements. But, I found the most inexpensive and successful way is to put a small ad in the classified section of my local newspaper. Obviously your results may be different. Here's the ad that I use: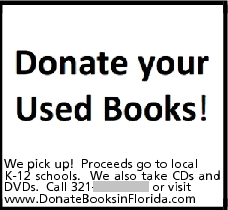 Pick a Charity
You will need to pick a charity to give your customers a reason to donate to you. It will make your business more meaningful as well.  I picked the charity DonorsChoose.org.  For this organization, you donate money and it goes directly to the teachers and the classrooms.  It's 100% transparent. Here are some screenshots of their site.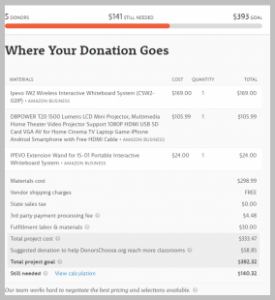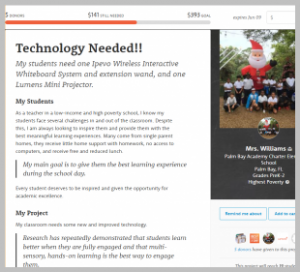 I recommend DonorsChoose.org for several reasons:
 You know exactly where the money is going
 You can directly impact your local community
 You can start a campaign that tracks your donations, projects funded, students helped, schools served, and teachers supported.  You can then put this on your website to create more legitimacy. See screenshot below.
After you make a donation, you can leave a comment on the Donors Choose page to market your business even more. See screenshot below.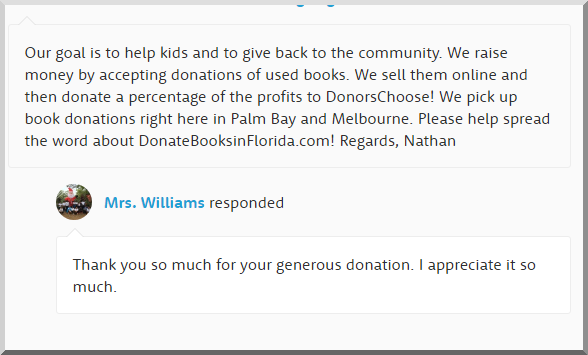 Create a Website and Pick a Name
Make a website for your new business for legitimacy and marketing purposes.  On the website:
 Explain that you will come and pick up the books.
 Offer to pick up CDs and DVDs as well.
 Tell what cities or counties you are willing to drive to.
 Mention the charity that you are donating to.
 Include a form where the customer can schedule a pick-up right on your website.
 Include your phone number and email address.
Here's my website DonateBooksinFlorida.com.  I used Wix to build the website.  I recommend this platform if you're a beginner, yet still want to create a good looking site.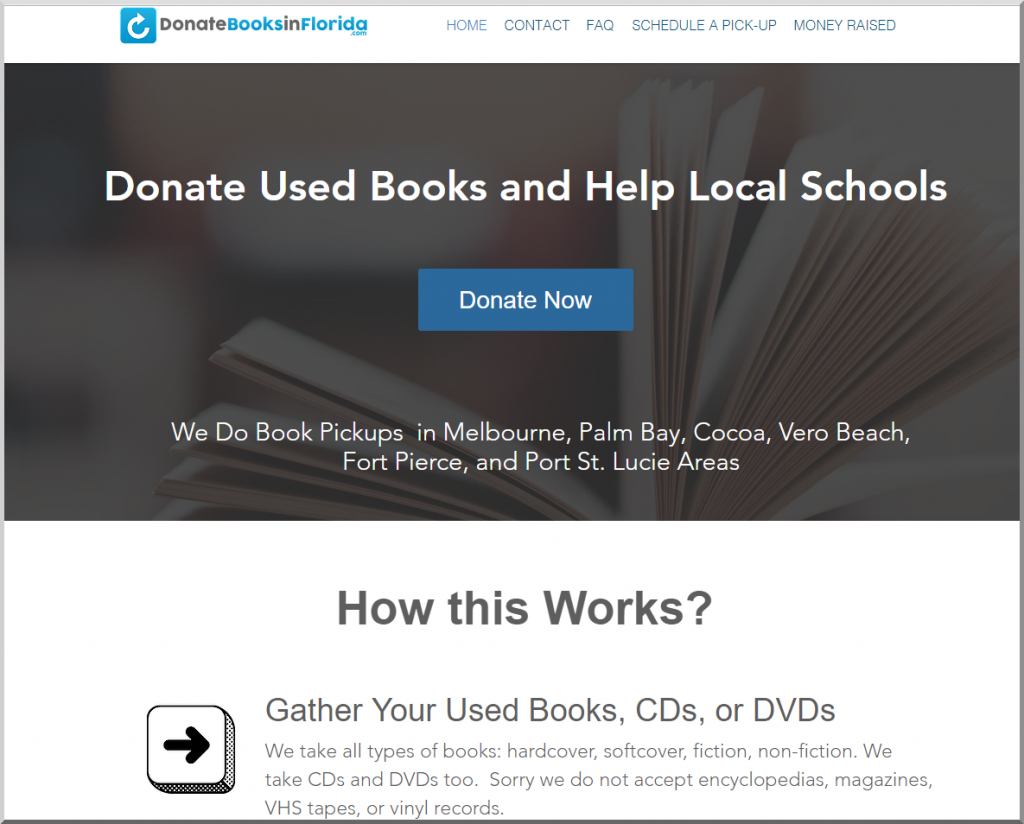 Collect and Sort the Books
After making an appointment, I drive to the donor's house and pick up the books.  I tell them to put the books in bags or boxes and leave them outside their front door so they don't have to be home.  Depending on where you live and the weather that day, this is not always the best case.
Then, I take the books to my storage unit and scan each one with FBAScan. For the one's that have Amazon value, I put in a separate pile and list those on Amazon. I use a unique SKU number to this those, so I can track the sales later. For example, I use SKU prefix DBF-4/13/17 when listing these books on ScanLister.
For the books that don't have Amazon value, I usually check some online book buyback sites using BookScouter.com to see if they will buy them. Then I donate the rest to Goodwill.  Keep in mind there will be a lot of leftover books, so you will have to be creative in deciding what to do with those. For example, you can:
 Trade them in to a local bookstore for trade credit.  Then turn around and use that  trade credit to buy valuable books from that store
 Try to sell them in bulk on Craigslist or eBay
 Start a brick and mortar used book store
 Sell them to online book buyback sites using BookScouter.com
 Sell CDs and DVDs to Decluttr.com
 Use the Amazon Trade In Program for expensive DVDs if you're not approved to sell them on Amazon.
Tracking the Sales and Donating Money to Charity
After, each month, I generate a report on my Seller Central account.  I go to Reports — Payments — Date Range Reports.  Then I generate a report for the last month. Then I open the report in excel and sort the SKUs. For all the SKUs that start with "DBF", I add up the values in the "Total" column. So, basically I'm adding the up the sales after all the Amazon fees are taken out.  Then I take 20% of that total and donate it to a local classroom using DonorsChoose.org.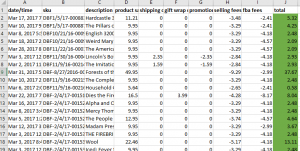 For example, my total Amazon sales for book donations was $289.50 was last month.  I also made $30 using Powells Books, and $32.96 on the Amazon Trade in Program.  My total inbound shipping costs were $42.50  So my total profit for the donations was $309.86.  I took 20% of that and it came to $62.  So, I donated $62 to a specific classroom last month.
Benefits of this Model
1.  You have a real business that you can advertise. The more creative you are at advertising, the books you can get. In other words, this business is scalable.
2.  Based on the charity you choose, you are making a difference in your local community
3.  Word of mouth can spread, and you can become the "go to" guy or gal in your area. Most people just want to get rid of their books without having to lug them in their car to Goodwill.
Do you have a question or a comment regarding this business model?  Please leave a comment below.  If there's enough interest, I may write a 2nd blog post or a detailed PDF guide.