It's been almost 18 months since I first launched ScanLister.  It's been quite a ride and much more popular than anticipated.  Much has changed since the first release, so I'm going to discuss the updates, changes, and fixes.
Now Available for Mac and PC
This by far has been the most popular question.  "When will ScanLister be available for Mac?".  In November, we released the first Mac version.  It works on OS X  10.8 or later. Here's a screenshot of the software.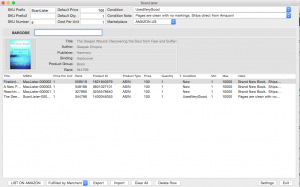 List Books, Media, and any other Product on Amazon
The very first version only worked with books.  Now you can list any product on Amazon's website: Books, CDs, DVDs, Toys, etc.  You also have the option of seeing product information after every scan.  You can see the picture, title, author, publisher, binding, product group, and rank.  Here's a screenshot:

Works with Thermal Label Printers (requires 3rd party add-on)
While I personally prefer printing the 30-up labels on my laser printer (all labels print out in order), many people asked asked about using a Dymo or Zebra printer.  Yes, you can use those label printers, with these add-ons.
ListLabelShip.com – $5/month
Barcode Label Printer – $40 one time fee (PC only)
You can watch a video of these programs in action on the bottom of the ScanLister video tutorial page.
Available in other Countries
The Windows version of ScanLister works on Amazon US, UK, Canada, and Germany. The Mac version is currently limited to Amazon US only.
Facebook Group
If you decide to purchase or subscribe, you will have access to our private Facebook group.
1     Ask technical questions
2    Discuss work flow strategies
3    Ask customer service questions
4    Discuss sourcing and pricing strategies
5    How to deal with split shipments
6    Should you use the Amazon Label Service
7    Get notified of ScanLister updates
Free Trial and Low Month Fee Option
ScanLister now has an 8-day free trial and low monthly fee option ($15/month) so you can test it out before making a financial commitment.  ScanLister is also the only Amazon listing program (that I know of) that offers a buyout price ($197).  If you think you will be using this software for a while, you can purchase the entire program for life.  No monthly fee.  You have also have access to updates as well.
Here are some other updates and fixes
Recent upload tab
Import/Export Function
Built in minimum and maximum Price to prevent Amazon from deactivating listings
Export cost of goods sold, supplier, and date purchased to 3rd party accounting programs
Linked condition with condition notes for faster listing
Removed kindle editions and eGuides from showing up on ScanLister
Option to choose the correct title when Amazon has more than one listing for the same ISBN
International and expedited shipping options for merchant fulfilled sellers
No need to select ISBN, UPC, or ASIN from the dropdown menu.  ScanLister automatically finds the correct item
Try ScanLister free for 8 days.
Other helpful links:
Read Testimonials
Watch Tutorial Videos
Detailed workflow of listing books in bulk